Please note his eggplant scarf with burgundy tie...please note her hideous dark olive leather gloves with chartreuse dress. The enormous effort that goes into the Obama's "thrown together" looks is the antithesis of style. Read on:
Watching "The Today Show"-- the top 2 (of only 5 people discussed), on VF's "Best Dressed" list are Michelle and Barack Obama. They sent out ballots to 2,000 "fashion insiders" and suprise!!! The Obamas received the most amount of votes, not only this year, but EVER!
I had NO IDEA they were so well-dressed. Now, I will look at them in a whole new way and adjust my fall wardrobe choices acordingly.
On Michelle, Meredith Viera gushes, "Not since Jackie O. have two women made such an impact on fashion" (about Michelle and Carla Bruni)
The VF Editor adds, "She has brought back the dress" Really? I didn't know the dress was gone.

Jackie O. brought Paris-designers to the White House, she had a total sense of style and defined style. She wasn't dressed, she dressed. Nancy Reagan was the same way. They both also knew how to flatter their figures....Michelle just wears what some stylist puts together for her, carefully blending mall-brands with ultra-high-end-designers so that there is never a critique.
She seems to have no sense of what her style is. I'd much rather see her in some structured YSL power suits than flowy dresses- it's just not "her" and it's obvious. She looks best in (one of my favorite looks) a structured sheath...she should stick with that. She needs very little fluff and extra accessories with her stature. The circle skirts and high waist do not work with her hips (take it from a fellow pear-shaped girl.)
They keep trying to dress her like January Jones, from "Mad Men," they try so hard to make her retro.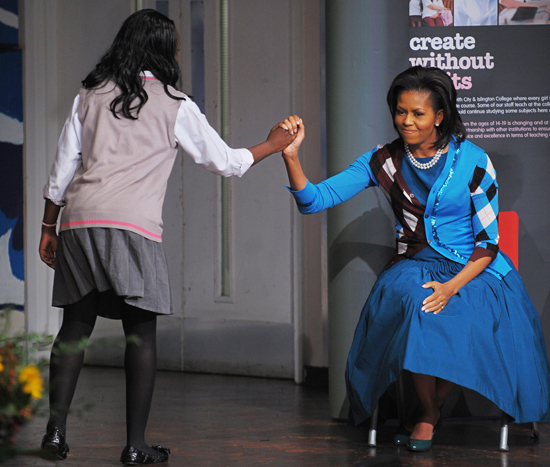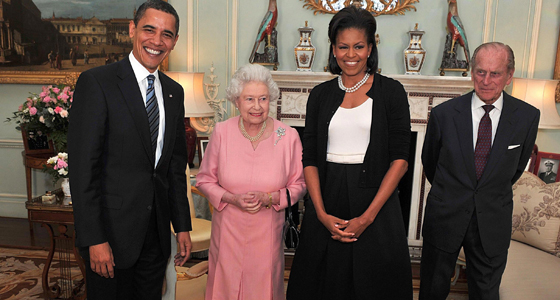 Regarding Barack, the VF Editor says, "He has such natural ease and elegance...you just watch the way he rolls up his sleeves...you can see that he cares how he looks, but not too much."
Yeah, I'd say he doesn't care too much....
......and that's fine. I don't care how well-dressed the President is, but let's not pretend that he is worthy of the Vanity Fair honor. And Michelle- to be fair- has had some fashion hits, but just as many misses. Without the help they receive from the fashion industry, they wouldn't be able to dress their way out of a paper sack. And a paper sack would have looked far better than this: