I thought Michelle's outfit was awful- color was really bad and the shimmer very gauche for daytime. Plus it didn't look like an outdoor jacket, but an evening coat. The olive shoes and gloves were bad also- but they were from J Crew (trying to balance out the enormous price tag for the rest of the outfit?) Will they claim the full value on their tax returns if it was gifted?Questions, questions.
Bottom line- it was too much next to the new President....it's his day and she was overshadowing him in that choice. She would have been gorgeous in deep taupe wool.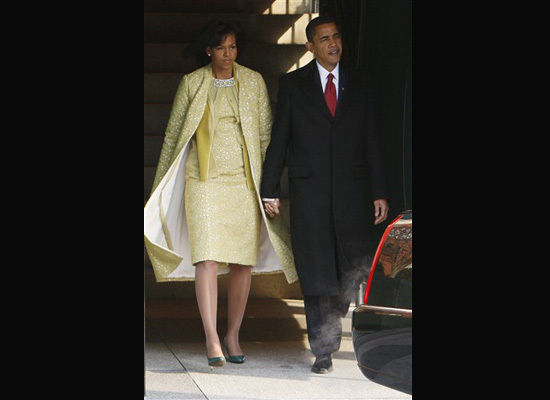 Now here was a gorgeous, perfect Inaugural Day ensemble:




I don't recall much media praise of it....Of course we only remember how sad we were supposed to be that day- how bad everything was....we could never think to praise the first lady's outfit. N

But Sasha and Malia were picture perfect today- absolutely adorable. These kids are political gold- you can't help but like them.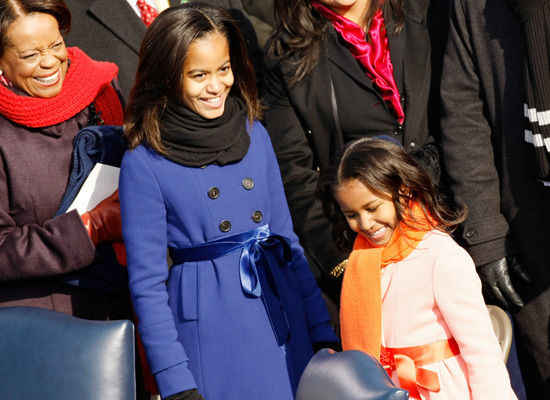 Now do you want to talk serious style and innate fashion sense?- look at the Bush twins+ hubby from today: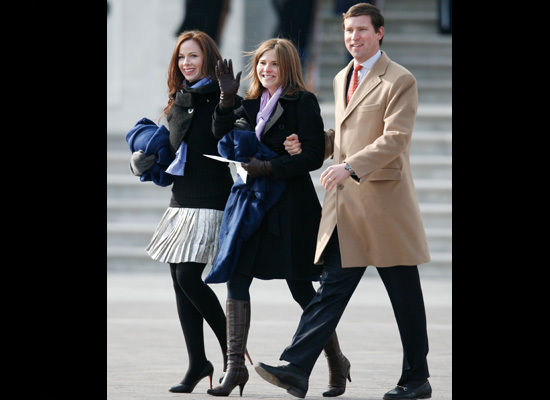 Funny- while I was googling to find a picture of Laura Bush- I came across this Vanity Fair piece run during the 2008 election criticizing the money spent on Cindy McCain's GOP Convention outfit (including the estimated cost of of her diamond earrings and watch into the pricetag). Will we see the same cost breakdowns for the new First Lady? I mean- she's the one living off the public dole now.
I also ran across a slide show from the Jan 22nd, 2005 Washington Post- lots of pictures of protesters at Bush's 2nd Inaugural- and lots of press coverage for them- Lady Liberty in chains, snowballs thrown at Cheney's Limo, people shouting protests during the parade. And Bush won against Kerry by 3 points, while Obama won over McCain by 7-not a huge difference is there? Aren't liberals funny people? And isn't it funny that we on the right choose to just turn the channel instead of flying to D.C. and acting like a bunch of freaks in order to ruin the day? I googled "protests 2009 inauguration"- not a one. Imagine that.