pa·tri·ot·ism
Pronunciation:
\ˈpā-trē-ə-ˌti-zəm, chiefly British ˈpa-\
Function:
noun
Date:
circa 1726
: love for or devotion to one's country
I love Michelle
Bachmann (Minnesota's 6th Congressional District Rep)
-listen to Chris Matthews- he just can't get it through his big fat head: Yes, there are a lot of people out there who think that Obama harbors anti-American views. Gasp, Shocker!!!
I agree with the assessments
Bachmann
makes of the chosen friends and mentors of Barack Obama- Rev Wright "God Damn America" and Bill Ayers: America "it makes me want to puke".
Not to mention things his wife has said and written including the gem "Because sometimes it's easier to hold on to your own stereotypes and misconceptions, it makes you feel justified in your ignorance… That's America!"
Note: I don't put Michelle Obama in the same category as the other two- but when you add up one + one- i.e. attending Trinity Church in Chicago for 20 years and having Rev Wright as a close, personal friend of the family-- it adds up to AT LEAST mild anti-
American
views.
But it's also Obama himself who - I believe- shares views that our country is not the most wonderful, amazing country on earth.
Obama- Berlin, Summer 2008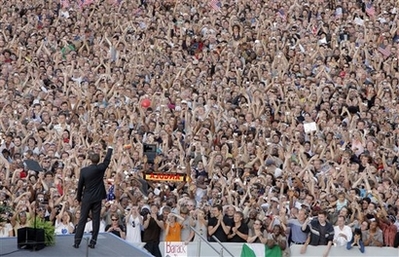 People of Berlin - people of the world - this is our moment. This is our time.

I know my country has not perfected itself. At times, we've struggled to keep the promise of liberty and equality for all of our people. We've made our share of mistakes, and there are times when our actions around the world have not lived up to our best intentions.
A Senator- running for President- goes to Berlin to apologize on our behalf for not "perfecting" itself. That doesn't have at least a tinge of Anti-Americanism to it? Freedom of Speech is guaranteed by our Constitution- but we have a right to question what is said.
We're about to put the most liberal Senator (also former Academic, two-time biography writer and community organizer) in the White House- and with that comes the reality of the "Apologize-to-everyone-for-how-bad-American is World Tour". But this time- it won't be from a Senator- it would be from our President. Woodrow Wilson II.
Peace through Strength- but if you don't wholeheartedly believe this is the greatest nation in the history of nations, how can you deliver that
strength
?
I googled Obama+ "A
merica
is the best"-- I couldn't come up with a time when he's said that- he must have said it sometime over the last 2 years- right? Post a link if you can find it.
But I these little facts in a
statement about a 10/6/08 Rasmussen Poll
:
While 91% of Republicans say the United States is the world's best nation, just 60% of Democrats feel that way. Twenty-one percent (21%) of Democratic voters say America is not the best, and nearly as many (20%) are undecided. Sixty-eight percent (68%) of unaffiliated voters feel America is the best, while 14% disagree.

Only 56% of likely Obama voters believe the United States is the best nation in the world, compared to 92% of likely McCain voters.
To liberal Democrats (the 40% above) like Biden and Obama- patriotism means paying more taxes if you're successful- it doesn't mean thinking that your country is the best place in the world. It doesn't mean loving our traditions, our culture or heritage. To them we are a country that was only worth fighting for when Pearl Harbor was attacked. 9/11 was one man in one cave and once we get him and then give more money to the poor people that follow him, we will be worth loving again.
There are so many countries where one could live if they wanted Socialism, places where systems have been in place for decades. The possibilities are endless. But, there's only one America and if it fundamentally changes, where do the people who like Capitalism go? Well- I know where most liberals want us to go....I'll try not to get too far ahead of myself- one day at a time, right? We are a center-right country and even if this election goes badly for Republicans, there's a reason for it and we'll get through.
But I still think that Reagan is shedding a tear somewhere and our Founding Fathers are just shaking their heads.